So much for that deal within a month business: MLS president Mark Abbott now tells Goal.com that "our goal is to have definition about the franchise ownership and final negotiations with the city in no more than eight months." Not clear whether he means final approval or a final plan ready for public hearings, but given that that process would take seven months by itself, I'm going with the former.
The more interesting piece of news, meanwhile, is Goal.com's publishing of a schematic of the stadium site design, which was apparently first released by MLS last Friday. It shows a stadium and surrounding landscaping entirely taking up the site of the Fountain of Industry and two of its neighboring soccer fields, with the public fields relocated to existing park space nearby: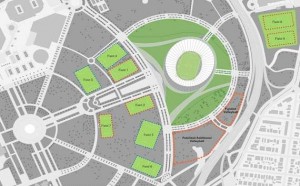 Compare with the existing layout:
Needless to say, replacing parkland with existing parkland isn't exactly kosher, even if it's a bit of a tradition in New York stadium deals. (Bronx residents are already warning their Queens cousins to be watchful of any parks plans; in the same article, I warn that given the Yankees experience, New Yorkers should be skeptical of all "no public subsidies" claims until they see it in writing.) The Queens Courier reports that MLS is still looking at acquiring either a chunk of MTA railyards along Flushing Creek or part of the abandoned LIRR Rockaway Line, either of which would have environmental and transportation problems and could cost the league serious money. But at least it's a sign that the sketches above are maybe not to be taken too seriously.