I took in the Argentina-Ecuador soccer match in New Jersey on Tuesday night, which was my first chance to see the now five-year-old stadium that the New York Giants and Jets built to give themselves a more luxurious setting than the old Giants Stadium across the parking lot. And I've gotta say, my initial reaction was much like my first visit to the new Yankee Stadium: They spent more than a billion dollars for this? I mean, here's the view from our seats: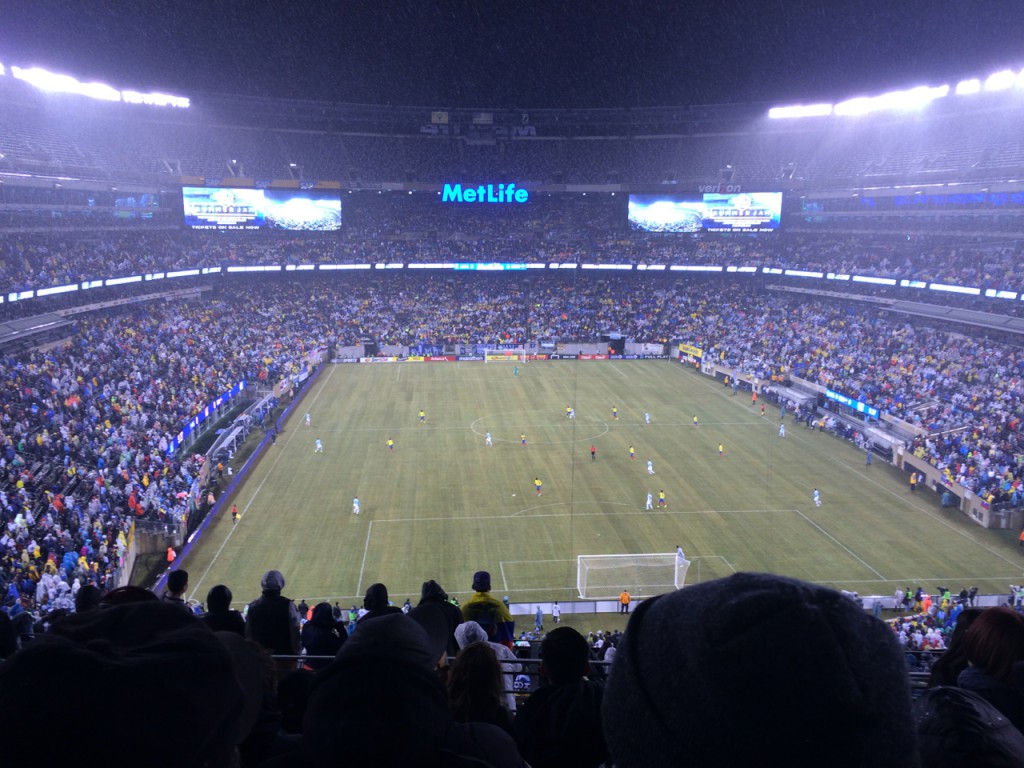 It has a ribbon board, and those big video screens in the corners, and obviously a bunch of luxury suites and clubs that I didn't have access to. (Also, yes, that's snow that you see falling. No more outdoor sporting events in March for me.) But overall, for average fans there's nothing particularly better about actually watching a game here over the old place — in fact, from the end zone seats it didn't feel all that different from being at one of the old "concrete donut" multipurpose stadiums like Veterans Stadium, only with more cupholders.
And as for being out of the seats, which is where modern stadiums with their massive footprints are supposed to shine, things were if anything even worse. Here, for example, is the view of the concessions concourse during halftime:
Yes, soccer halftime is always a madhouse since no one wants to leave their seats during the action and risk missing the only goal, but this was beyond awful. After fighting my way through a crush of people to find the end of one concessions line — but allow me to just quote the customer survey that the stadium people kindly requested that I fill out after I attended the game, no doubt not knowing what they would be in for:
The staff were all fine. The logistics, however, were a nightmare: It took us forever to find our way to our seats (on the 200 level opposite the train station, requiring that we climb to the 300 level then come back down again) and find our way back to the train, the crush to leave after the game was appalling (despite only 48,000 fans in attendance), the concessions lines were the worst I've ever seen at any stadium, and the concessions stands were incredibly backed up at having enough food. (Some of this may have been because it was soccer when there's a big halftime rush to the concessions, I understand, but maybe plan ahead for this a little?) And fortunately we were under an overhang, or it would have been miserable sitting in the rain and snow, especially with your no-umbrellas policy. Also, the ad signage was so irritatingly ubiquitous (video ads even during play, really?) that even my 12-year-old son, who *likes* commercials, was complaining about it.

I'm not sure what to suggest, as a lot of these problems seem inherent to the stadium design, but hiring more staff to direct people and way better signage would be a start. I'd go to MetLife Stadium again if some event I absolutely had to see was happening there, but I wouldn't be happy about it. And next time I wouldn't bother to try to get french fries.
This has been the most surprising discovery of my years of research into the new-stadium game, and one I have to keep explaining to people: New sports venues, on the whole, kind of suck. They're far more geared toward serving luxury customers — who are the ones willing to pay the big bucks that justify these buildings, when they can be justified at all beyond the desire for public subsidies — than toward things like making sure that people can line up for the restrooms without creating a traffic jam. It's not so much that stadium and arena designers are doing a bad job — though in many cases they arguably could be doing far better — as that making for a better fan experience is fundamentally not the goal of these places. Separating fans from their money, especially fans with lots of it, is, and despite anything you may have heard about the free market supposedly reflecting the demands of customers, there isn't always a direct alignment.There are many reasons why we've seen a rash of new stadiums and arenas in the past 30 years, but one factor that shouldn't be overlooked is that it's a land rush to serve a new market: There weren't that many people with tons of disposable income to blow on upscale ballpark food in the 1970s, whereas now, well, we all know what's happened. I once wrote an article for the late, lamented Village Voice sports section that talked about A-Rod's then-record salary and suggested blaming it all on Ronald Reagan's tax cuts for the wealthy; that was an oversimplification then, and even more so now that we know that much of the rise in inequality was actually the result of Reagan's SEC rules, but if you want to shake your fist at someone for having to pay higher ticket prices for a lousier experience, you could certainly pick a worse target.