Last night's nationally televised opening night game at Wrigley Field had everything! The Ernie Banks memorial construction area tarp!
Good morning. pic.twitter.com/0lOP4torKR

— Chicago Cubs (@Cubs) April 5, 2015
That new video board in left field, which from certain angles looked almost bigger than the stadium itself (and from other angles didn't look much smaller)!
Fans peeing in cups in the corridor because the men's room lines were half an hour long!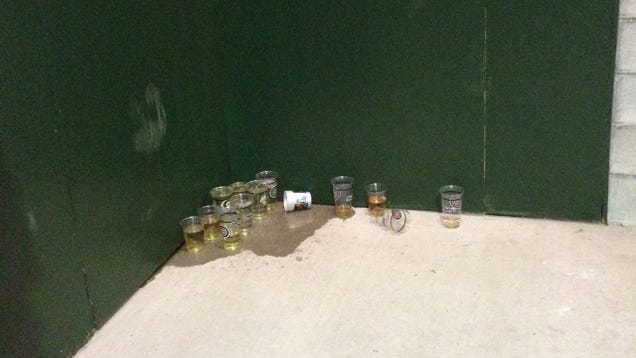 The tarps and the video board were expected; the peeing in cups less so, and frankly hard to understand, given that the Cubs sold 5,000 fewer tickets than usual thanks to the bleachers being closed for construction. (I guess the bleacher restrooms were closed as well, but still.) Maybe the Cubs were just trying to get all of the awfulness out of the way early in the season — they also got shut out 3-0. Everybody will be peeing in the right place once Kris Bryant is allowed to arrive!