Saving the best, or at least the most complex, for last this morning: The San Diego Citizens Stadium Advisory Group, which is accurately named so long as your definition of "citizens" is "CEOs," announced its Chargers stadium funding plan yesterday. And it looks like this:
Oh, sorry, that's not the financial plan — that's the rendering of what the stadium would look like, as lit by an unearthly glow and permanent fireworks. What you wanted to see was this: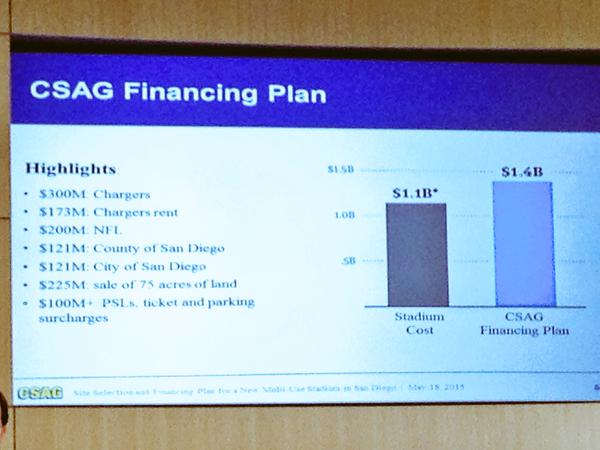 That's slightly less misleading than the stadium rendering, but it still has some problems. First off, the math-inclined will note that the numbers on the left only add up to $1.24 billion, while the bar on the right claims $1.4 billion in funding. Let's look at the actual plan, shall we, and try to figure this out?
The actual breakdown, according to the chart on page 12:
Cash from Chargers owners: $300m
NFL G-4 fund: $200m
Present value of $7m in annual payments from city: $121m
Present value of $7m in annual payments from county: $121m
Half of proceeds from personal seat licenses (the Chargers would get the other half): $60m
Present value of $10m in annual rent payments from Chargers: $173m
Present value of $1.25m in annual rent payments from SDSU: $21.6m
Present value of $1.25m in annual rent payments from bowl games: $21.6m
Proceeds from sale of 75 acres of city land: $225m
Present value of $4.75m in annual ticket taxes: $84.7m
Present value of $1.5m in annual parking fees: $26m
"Additional funding sources stadium is expected to generate": $50m
In addition, the city of San Diego would kick in $180 million worth of free city-owned land for the stadium itself.
So what does this add up to in actual public cost? The $242 million in cash from the city's and county's general funds, obviously, which no one is saying how they'd be repaid. (The group's report oddly states that the plan "does not include any new City general fund dollars," but I think that just means "it does not require any new taxes to feed the general fund, since those would require a public vote, so we'll just find $7 million a year of something else to cut.") Plus the $405 million worth of public land that would be thrown into the pot, part of it sold off with all the proceeds given to the Chargers, part of just handed over for free for the stadium.
That puts us at a whopping $647 million worth of subsidies that San Diego's business leaders are proposing to keep Chargers owner Dean Spanos from heading up the road to Carson — and that's before we even get into the question of whether the new San Diego stadium would be exempt from property taxes, something that isn't discussed in the report. (No, the city-owned land doesn't pay property taxes now, but if the city sold it to a private developer, it very well could in the future.) That's an awful lot of money to spend when you don't even know if the other option on the table is a bluff, and makes one wonder if San Diego might do better by letting the Chargers leave, developing the current stadium land and keeping the proceeds for its general fund, and maybe even setting aside a hundred million dollars or so for gas vouchers so Chargers fans don't mind driving a couple of hours each way on Sundays to see their team play.
U-T San Diego, naturally, says the CSAG report "scores" because a stadium "appears doable now." And all it took was $647 million. See, some problems can be solved by throwing money at them!