Today in bad journalistic math, we present an article by Business Insider's Cork Gaines, which proposes that the NBA has a vested interest in the Milwaukee Bucks arena plan failing, since it would allow the league to take over the team and profit off of rising franchise values in the wake of its new TV deal:
If the Bucks fail to get a new arena approved, the NBA will buy back the Bucks and then turn around and sell it to the highest bidder in either Seattle or Las Vegas for as much as $1.6 billion. That would be a cool $1 billion profit for the other 29 NBA owners.

Another scenario would allow Edens and Lasry to keep the team and move it to Seattle (or Las Vegas) after paying the NBA a relocation fee, likely in the hundreds of millions of dollars. Under this scenario, the other NBA owners still get a hefty pay day and Bucks owners get to keep an NBA team in a new arena that is still worth more than the total amount they paid in 2014.
Anyone see the logical flaw here? (No, not that someone would pay $1.6 billion to put an NBA team in Las Vegas — we'll get to that in a moment.) Come on, it'll come to you. Let's take a look at the chart that Business Insider included in its article (based on Forbes' franchise value estimates), maybe that will help: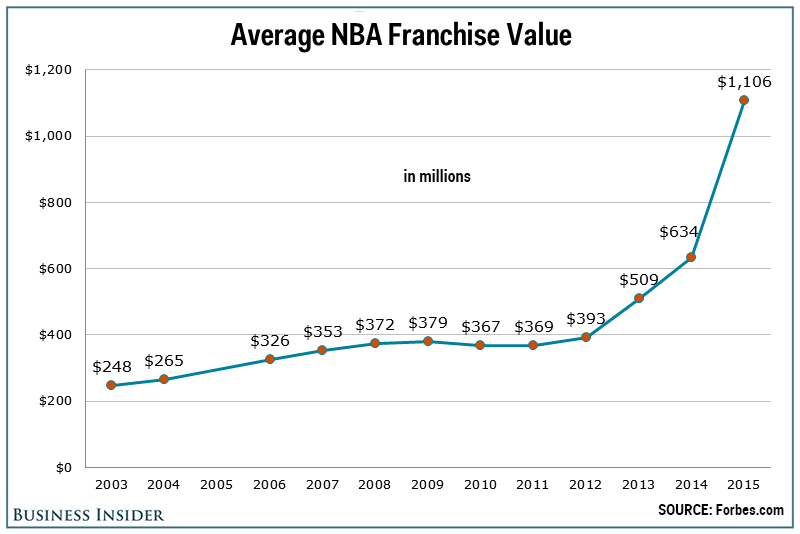 Got it yet? Here's the key: Those soaring franchise values are for all 30 NBA teams, including the Bucks. That means that even if the Bucks sit right where they are, they're worth a whole lot more than they were a year earlier, thanks to the league's new $24 billion TV deal that is already driving player salaries skywards.
Yes, since the NBA's buyback agreement for the Bucks is fixed at $575 million, that's an opportunity for the league to make some easy cash if it can get the franchise at a bargain price and then resell it. (This is assuming that the other 29 owners would actually go ahead with scarfing up the current Bucks owners' equity for themselves, which seems like the kind of thing billionaires don't do in polite company, but we'd see.) But if you're including "let Edens and Lasry keep the team for a fee and move it to Las Vegas" in your scenarios, you also have to include "let Edens and Lasry keep the team for a fee and keep it in Milwaukee," which could potentially be even more lucrative, given the nearly half-billion dollars in subsidies on the table, even if they don't manage to get approved this year.
Meanwhile, $1.6 billion for a Seattle team, let alone a Las Vegas team, is completely insane, new arena or no. Keep in mind that the Atlanta Hawks, a team in a market bigger than either Seattle or certainly Las Vegas, were just sold for $730 million, a figure that had Forbes itself suggesting that sports franchise values have already peaked. And then take a look at the Forbes NBA valuation estimates: Only five teams are valued at $1.6 billion or higher, and all of them play in New York, Los Angeles, Chicago, or Boston. The nearest markets in size to Seattle are Phoenix ($910 million) and Minneapolis ($625 million), and neither of those teams would be saddled with tens of millions in annual arena debt payments like a Chris Hansen-owned team would be in Seattle. So any potential sale payday here is probably closer to $100 million than $1 billion.
Anyway, all this is no doubt raising temperatures in the Wisconsin state legislature, where Senate Majority Leader Scott Fitzgerald has started suggesting that a ticket surcharge could play a role in a revised Bucks arena funding plan. That's potentially good news for Wisconsin taxpayers — ticket surcharges mostly end up coming out of team owners' pockets, since it means they can't raise ticket prices as high as they would otherwise without pricing themselves out of the market — but without any details it's hard to say by how much, and Fitzgerald didn't provide any. The Wisconsin legislature can be called back into session at any time to deal with this, so with no deal close at hand, best prepare yourself for a long, hot summer of this stuff — "window is closing" rhetoric or not, $457 million in cash and tax breaks is too rich a potential offer for either the Bucks owners or the NBA to turn their noses up at.