San Diego Chargers vaportecture porn, everybody!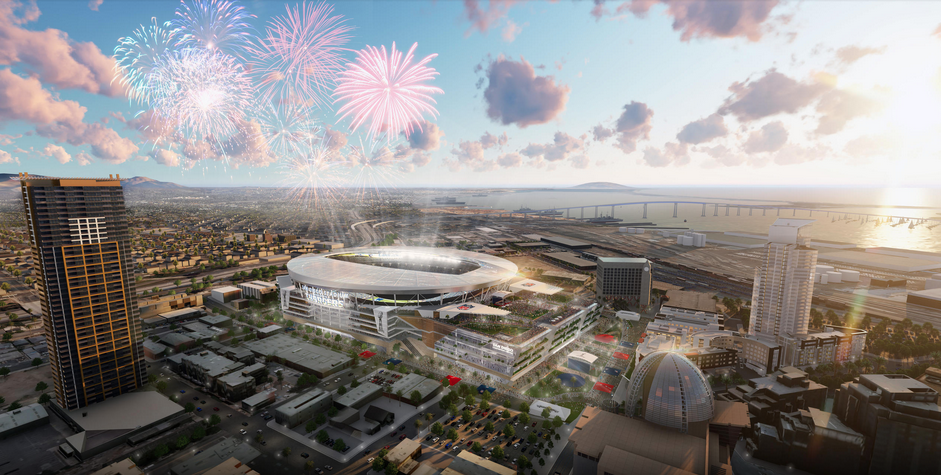 Architect David Manica called the building "soft, friendly, of San Diego," "like a natural evolution of the downtown architecture." To this end, it will be surrounded by fluffy clouds, and have beams of light streaming up from the field, either because of a state-of-the-art lighting system or because once the stadium is complete, Jesus will return to perform the Super Bowl halftime show.
There's also a park that's described by the San Diego Union-Tribune as "over an earthquake fault," presumably to get around that pesky "don't build stadiums on top of earthquake faults" law. That building that appears to be embedded in the stadium wall is the "historic Wonderbread building" currently on the site, which "would be preserved and integrated into the 16th street facade of the project and would be home to local restaurants, cafes, or other active retail components," addressing the don't tear down a historic 1894 factory building concerns. Plus a semi-retractable roof, so the boats don't get wet from all the San Diego rain!
The architects were quick to describe these drawings as "conceptual," which means "don't think the actual stadium is necessarily going to look like this" as well as "I can make it longer if you like the style." It looks fine enough as stadiums go, though I expect that roof will be the first thing to go if costs need to be trimmed. That's if San Diego voters agree to give it $1.15 billion in bonds in the first place, of course, which remains a longshot, though maybe "old building embedded in outer wall, plus fireworks!!1!" will be enough to win a few more votes.