The Inglewood city council, after voting last month to enter into an "exclusive negotiating agreement" with Los Angeles Clippers owner Steve Ballmer for a new arena, voted again on Friday to do the same thing, after getting a claim filed against it by the owners of Madison Square Garden on Wednesday for — you know what, let's take this one step at a time:
Since February, there's been talk that Ballmer wanted to build his own arena in Inglewood, possibly adjacent to the Los Angeles Rams' (and Chargers') new stadium, so that he (and maybe Rams owner Stan Kroenke) could create his own entertainment district to compete with AEG's L.A. Live next to the Clippers' (and Lakers') current home at the Staples Center.
Inglewood councilmembers voted in June to approve that three-year negotiating agreement, which has no funding or operating details beyond "We wanna build an arena, let's figure this out."
Last Wednesday, MSG — which owns the Forum arena, formerly the home of the Lakers and now used mostly for concerts, and which is owned by James Dolan of New York Knicks and terrible singing fame — filed that claim for damages against Inglewood, claiming city officials asked them to give up their lease on parking lots across the street from the new football stadium site in April by telling them it was for a new "business-technology park." Which, you'd think Dolan and his lawyers could have read the newspapers back in February to see this coming, but okay. MSG's lawyers said if the city didn't cancel the deal with Ballmer, they'd file suit.
Inglewood doubled down on Friday by voting unanimously to reauthorize the agreement with Ballmer, to meet any concerns that the June vote had taken place without public notice (one of the charges in MSG's claim).
Friday's vote was attended by 40 Inglewood residents protesting that the city was considering using eminent domain to force them off of their privately owned land to make way for the arena, or otherwise displace them by helping to gentrify their neighborhood.
Inglewood Mayor James Butts said no one was being displaced, that the arena would be built entirely on public land.
An MSG press spokesperson fired off an email to the Los Angeles Times saying that the land Ballmer is seeking contains hundreds of homes, apartments, and businesses, and "there is no question that residents would need to be displaced within this area."
So, what the hell? The agreement itself includes this color-coded map by owner type:
The white parcels are the privately-owned bits of land, so, yeah, I'd say there should be some concern about eminent domain being used. In fact, I'd go so far as to say it'd be impossible to build an arena, let alone a surrounding entertainment district, without obtaining some private land.
Here's what it looks like on Google Maps: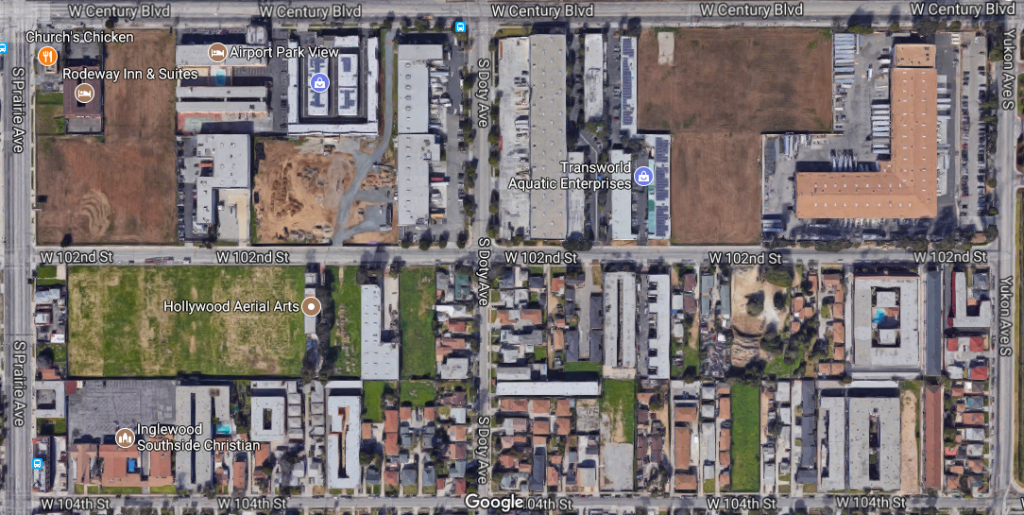 This is shaping up to be a big-ass mess, and that's before we've even gotten into the question of who's going to pay for it. Ballmer and Butts are going to need all of those three years, I'm guessing.