Columbus Crew owner Anthony Precourt has settled on a preferred site for his proposed Austin soccer stadium, and it's McKalla Place, a 24-acre former chemical dump that looks like this: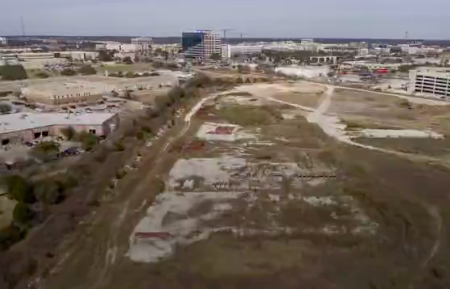 On first glance, that certainly seems like the kind of unwanted property that is the perfect place to dump a soccer stadium. Except that it's owned by the city, and already targeted for future development, and there's no indication Precourt is willing to pay market value for the land:
"I've been pushing for private land, but public land keeps the city in the conversation," said [councilmember Leslie] Pool, whose District 7 includes McKalla Place. "I'd rather see practice fields at McKalla and the stadium somewhere else.
"I'm open to it. I'm agreeable to participating in the analysis. I just don't want to be taken to the bank."
The week before last, Precourt declared that a new stadium would bring $400 million in economic benefits over the next 25 years, "in the form of community investments, park improvements, soccer wellness and programming, wages and construction services, among others" — a statement that was widely derided, especially after Precourt refused to provide details on it other than to say that "we have a spreadsheet that breaks it down and line-itemizes it" but that he wasn't going to release yet.
As we've seen lately, free land is the flavor of the month when it comes to stadium subsidy deals, so Pool is right to be skeptical until Precourt provides more details. The site has road and rail access, but needs things like sidewalks, and Pool says any infrastructure should be on Precourt: "Every dollar and penny in community benefit needs to come back to the community. Let's have staff do the analysis. If it turns out to be a great idea, I'll be all for it." Words to live by!