It was only a matter of time after Los Angeles Angels owner Arte Moreno opted out of his Anaheim lease that we were going to start hearing rumors about where he might move the team if he couldn't get a stadium renovation deal, and now we have one, courtesy of NBC Los Angeles:
The Los Angeles Angels of Long Beach? Could Angels be Moving to the LBC?
Paging Ian Betteridge! But moving on, what's actually in the article about Long Beach's stadium plans?
The city of Long Beach publicly stated Monday night that it has approached the Los Angeles Angels to express interest and discuss the opportunity of moving the Major League Baseball team out of Orange County and into downtown Long Beach.
Okay, "expressed interest" just means somebody called Moreno and said, "Hey, let's talk." Does Long Beach have an actual site for a stadium, and more important, money to build one?
Long Beach is putting forth an effort to create a downtown waterfront development plan and exploring the feasibility of a downtown sports venue on the Convention Center parking lot, according to a city of Long Beach news release attributing quotes to Mayor Robert Garcia.

The statement went to say that the city of Long Beach has reached out to the Angels regarding the opportunity but categorized the status as "preliminary" and said discussions were ongoing.
This is getting us nowhere. Hey, Bill Shaikin of the Los Angeles Times has an article about it too, what does he have to report?
The city has not determined whether a ballpark would be feasible on the site or the best use for it, let alone whether taxpayers would contribute to a construction cost that could exceed $700 million and could approach $1 billion.
That would qualify as "preliminary," all right. Add in that the Long Beach Convention Center parking lot appears to be too small to fit a baseball stadium on, and this thing has more questions than answers: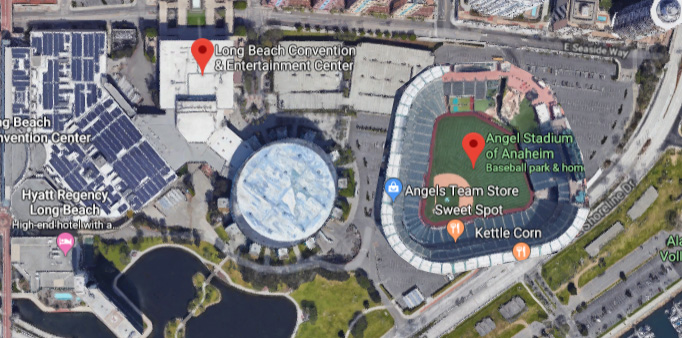 While it's not clear what's in it for Long Beach to make its pursuit of the Angels public — other than getting its name mentioned on the telly — for Moreno this is stadium extortion gold: a new city to use as a threat now that Tustin has told him unequivocally to pound sand. Ideally you'd want an actual offer to use as a threat, but sports venue shakedowns have worked with less.