The Fort Lauderdale City Commission voted Tuesday night to give permission to David Beckham's Inter Miami ownership group to tear down Lockhart Stadium and build a new facility that would serve as the team's temporary home and long-term training ground. Though the "building a new facility" part is apparently just a suggestion:
Mayor Dean Trantalis suggested to the commission that the agreement should come with financial assurances that the Beckham group will not simply demolish the existing stadium and then walk away from the project without building something in its place. Other commissioners argued that given the extremely tight timeline — Beckham's group wants to begin play there in less than a year — the project must be permitted to start as soon as possible.

The vote was unanimous, 5-0. Beckham's group will have 180 days to complete the demolition.
Now, it's pretty unlikely that the Beckham group will demolish the old stadium and build nothing in its place, precisely because of that timeline mentioned above — Inter Miami has to play somewhere next year, and Fort Lauderdale is pretty much their only option at the moment. Just what they'll build is less clear: If it takes (up to) 180 days to demolish the existing stadium, that leaves less than six months to build a new one, which gives "aggressive timetable" a new meaning. Here, as a reminder, is what Beckham's group says they'll be building: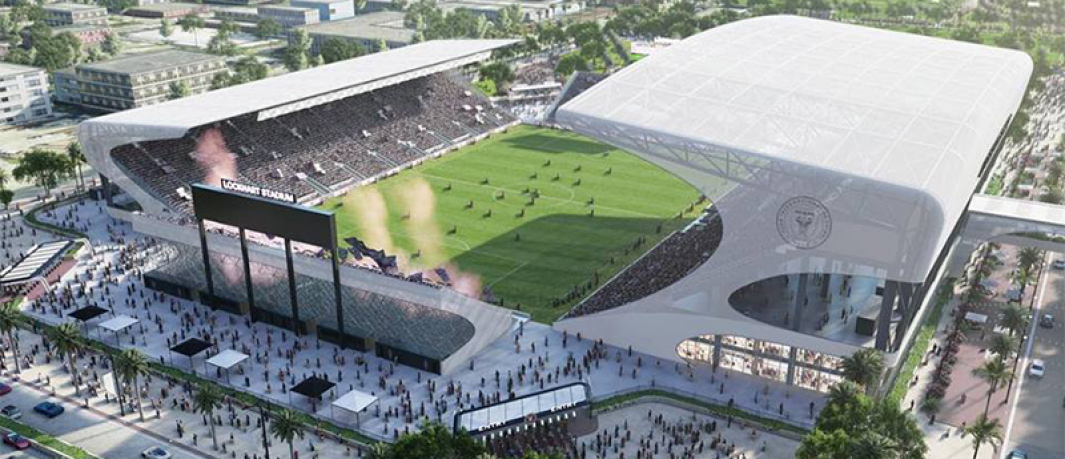 And here is what I think they'll more likely have time for by next spring:

We'll all find out together soon enough. Or, this being the franchise that seems destined to exist only in Beckham's hopes and dreams, not.