And speaking of articles citing unnamed sources, or rather "people familiar with the discussions but who requested anonymity because they are not authorized to comment publicly," here's the Los Angeles Times' Bill Shaikin with more rumors about the rumored Los Angeles Angels stadium project in Long Beach:
In Long Beach, the proposed ballpark site is a 13-acre parking lot adjacent to the [Long Beach Arena]. However, the Long Beach City Council last month authorized negotiations on a larger parcel that envelops the ballpark site and includes the city's convention center, performing arts center, arena and a greenbelt between Shoreline Drive and the Pacific Ocean.
That would certainly help clear some room for a stadium, which was going to be a problem otherwise: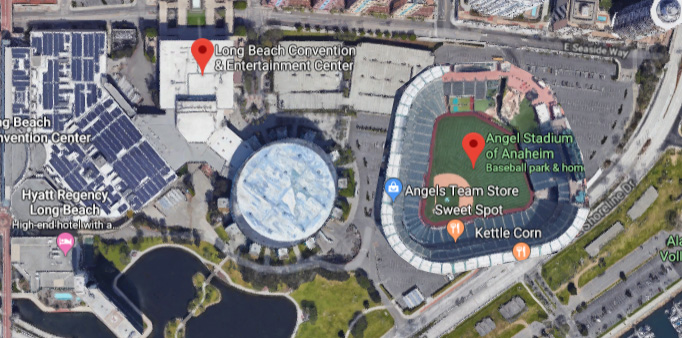 (The arena is the roundish thing in the center of the image.)
It would also help find room for the ancillary development that Angels owner Arte Moreno wants to build to help defray his stadium construction costs, whether in Anaheim or, presumably, elsewhere. Of course, then Long Beach wouldn't have anywhere to host Paw Patrol Live or the Society of Vacuum Coaters Tech Con, but I guess they'd live.
Shaikin also notes another problem with the Long Beach site from the Angels' perspective, though:
While Angel Stadium is surrounded by three freeways and a train station, the Long Beach site is close to only the 710 and 405 freeways and the only major public transit option — the Blue Line light rail from Los Angeles — does not serve the Angels' primary fan base in Orange County.
I still predict that Moreno is just playing footsie with Long Beach to try to arm-twist Anaheim into going along with his stadium demands, just as he previously tried and failed to do with Tustin. A team spokesperson told the Times that they hope to make a stadium decision by the end of 2019, so we should know more by then, maybe.