The wannabe St. Louis MLS team owners have released some renderings of their wannabe stadium:
So, that square roof is cool and all, but I'm not sure it works in terms of geometry, given that soccer pitches are longer than they are wide. It looks from that image like the seats at the ends are more stacked vertically than the ones on the sidelines, which could be one way of getting around that; let's see another angle:
We're looking from one end in the above image, so maybe. Still, it's also possible this is some form of forced perspective, or the designers just decided to fudge the shape of an actual soccer field to get a cooler image, and the actual roof — if there ever is an actual roof — will be more rectangular. Which is actually what appears to be going on in this GIF: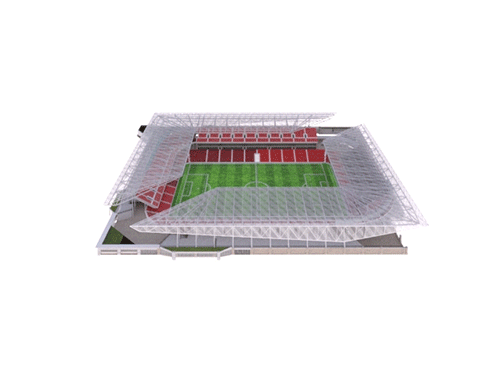 Team co-owner Carolyn Kindle Betz did call the renderings "conceptual," so I'm going to take that to mean "it won't actually look like this, we just wanted something to distract you with."
Which is fine, but can't we get any renderings with the more usual fantastical stadium elements, like weird lighting effects and people cheering at nothing in particular? Please?
Ahhhh, much better. Judging from the keeper sprawled on the ground, it looks like somebody (the red team?) has just scored, which isn't too surprising given that the black team has utterly failed to track back to play any defense.
The stadium — which you will recall is set to get something on the order of $60 million in public subsidies — is supposed to seat 22,000, with room to expand (maybe they can put temporary seating in those gaps in the corners, though the landscaping is going to get in the way), which will make MLS commissioner Don "really our stadiums should hold 27,000 people even though the league average attendance is only 20,000 and that's with teams papering the house" Garber happy. And since making Garber happy enough to give St. Louis owners a franchise — sorry, sell St. Louis owners a franchise, for an expansion fee of at least $200 million and maybe more — really that's how we should be looking at all of these pretty pictures: They're profile pics, nothing more, nothing less.