You'll recall that West Ham United F.C. moved out of its 112-year-old Boleyn Ground in 2016 and into London's Olympic Stadium, after the city spent something like a billion pounds building it and then handing it over to the team with a sweetheart lease in which the public has to pay for everything from security to corner flags. Previously West Ham's owner had called the stadium "ridiculous" and fans threw coins, bottles, and even seats at fans of opposing clubs; are things going any better now?
Just to summarise an abysmal day for West Ham:

– 3-0 loss at home to Burnley
– Multiple pitch invasions
– Players scuffle with fans
– Kids forced to sit on bench to avoid fighting
– Owners advised to leave for their own safety

This stadium move is going really well

— Jamie Roberton (@jamiemroberton) March 10, 2018
"Pitch invasions" is British for "fans running on the field," and "players scuffle with fans" is British for this: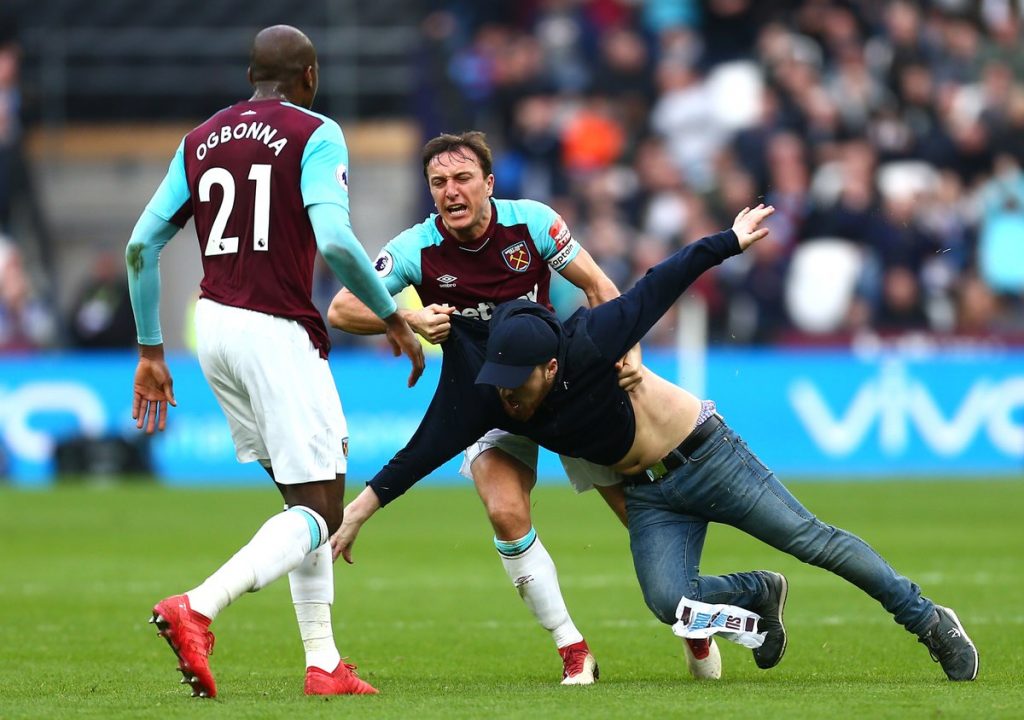 This is truly the worst for everyone concerned — taxpayers, fans, players — especially with West Ham currently only three points above the relegation zone, which is British for "if they lose one more game than one of the teams below them in the standings the rest of the way, they could be sent to play in a lower-level league." And now Eurosport sportswriter Desmond Kane says the building should just be demolished, or at least redesigned (again) for soccer:
The London Stadium, even the unnecessarily grotesque title of it, is a repulsive monument to the past.

It should be knocked to the ground and rebuilt as a football stadium as soon as possible. Juventus and Bayern Munich have left stadiums built for athletics for stadia suitable to host football. Sevilla and Real Betis opted out of a move to an athletics stadium in Seville because of such dangers.
You'll get no argument from me here, though there is the little problem that the Boleyn Ground currently looks like this, en route to being redeveloped as housing:
So, in short: The city of London is losing money, the team is losing money, fans are miserable, the team sucks, and there's no going back. There are lose-lose scenarios, and then there is West Ham. At least everybody loves some soccer schadenfreude.