Speaking of announcements that weren't all they were cracked up to be, San Diego city councilmember Carl DeMaio declared yesterday that he has a plan to raise $1.4 billion or more to build a Chargers stadium with no public money required. And how would that work, exactly?
Private developers, the Chargers, and individual fans would all receive ownership shares in the facility based on their initial investment levels. Instead of Personal Seat Licenses, fans can invest in Fan-Lord Ownership Shares in the facility.
He's trolling us, right? The idea that you can somehow raise $1.4 billion in private capital by dividing up ownership of a stadium pie that is going to be worth way, way less than $1.4 billion in future revenues is amusing enough, but Fan-Lord Ownership Shares? That isn't even good Game of Thrones fanfic, let alone an NFL stadium finance plan.
You can read the Powerpoint of DeMaio's proposal here, but the main idea seems to be to turn regular PSLs into these super-PSLs that would include a share of stadium revenues, of which there won't be any because all stadium revenues are going to be rolled into a laundry list of rounded-off payments, none large enough that they seem totally unreasonable, but at the same time none actually justified by any included market analysis: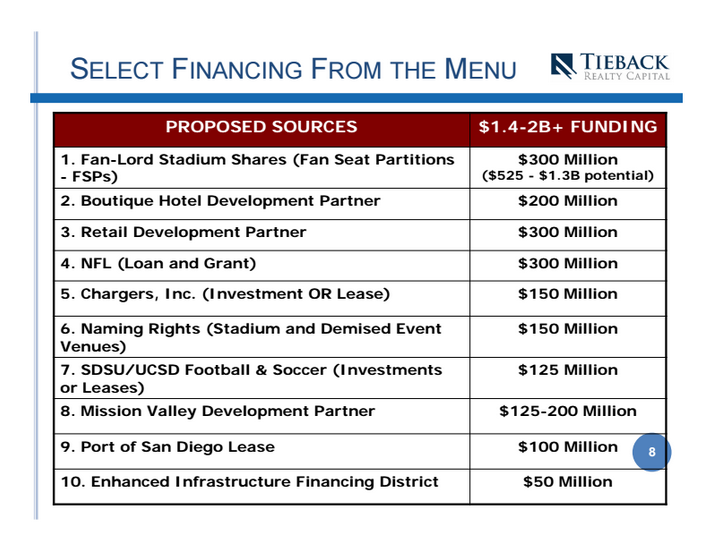 Look, I think everyone would be thrilled if it turned out that the Chargers owners could raise private capital from fans and investors (and fan-investors, which I guess is what "Fan-Lords" would be) to pay for a new stadium and still have money left over to increase their profits over what they're getting at their current stadium. All evidence, though, is that the numbers don't come close to adding up to do that. If DeMaio's plan turns out to be a proof of concept that a Chargers stadium is a money-loser and what the Spanos family wants isn't so much a new stadium as the subsidies that come with one, that will be a useful addition to the public discourse, sure. But don't be shocked when this turns out to have all the financial sense of a plan developed by underpants gnomes.